Find your perfect domain name
Fast and Reliable Web Hosting Solutions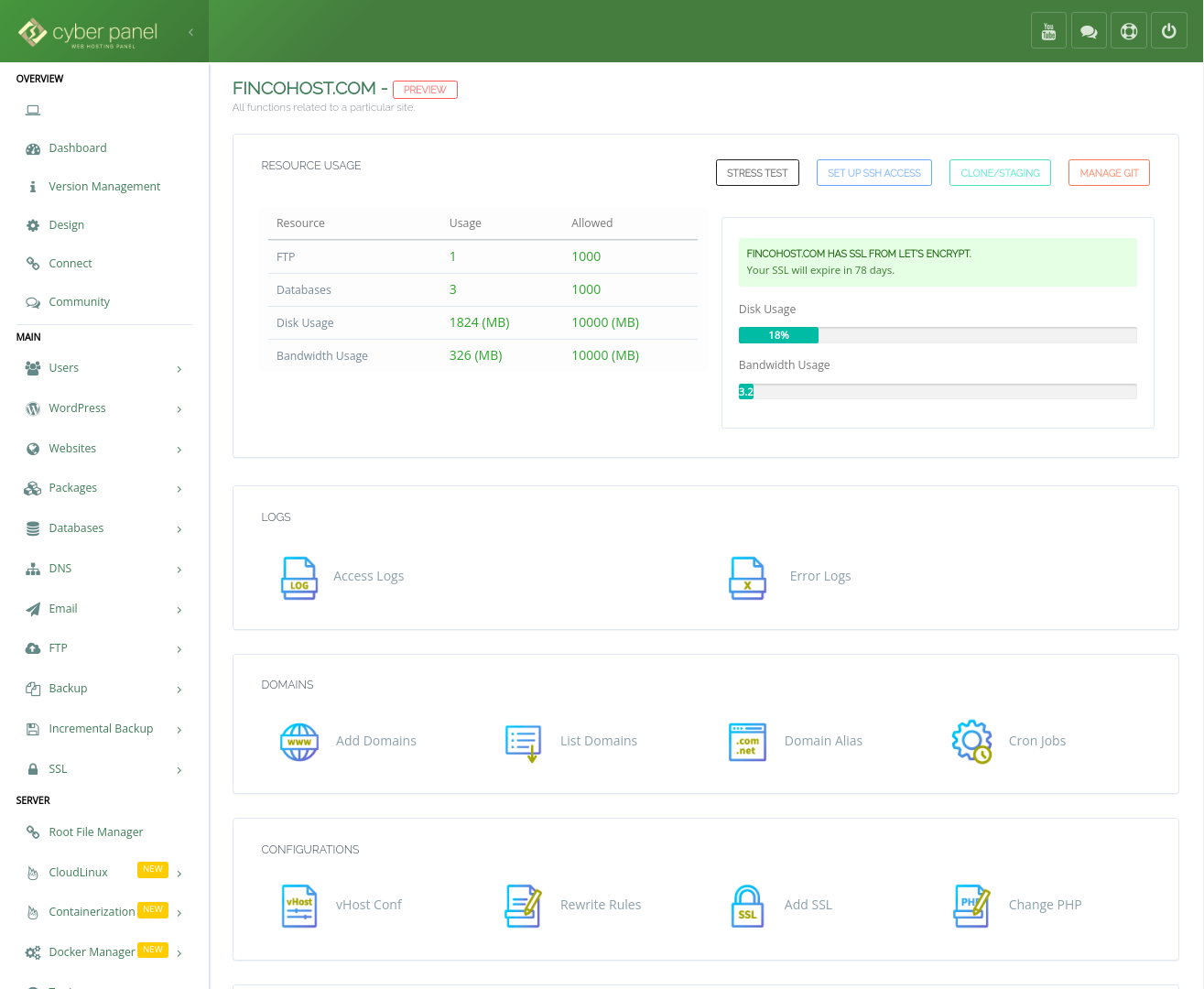 CYBERPANEL CONTROL PANEL
CyberPanel is a web hosting control panel powered by OpenLiteSpeed and LiteSpeed Enterprise.
CyberPanel is an alternative to Web Hosting Control Panels like cPanel and Drirect Admin. CyberPanel has important features like FTP server, backups, SSL, PHP management, install, delete, and everything from one panel.
We love CyberPanel because it is Opensource and for this reason, we are able to implement more custom features to better suite our customer's needs
LIGHTSPEED WEB SERVER
FASTER THAN NGINX AND APACHE
Speed up content and application delivery by hosting your websites and apps on FincoHost. All hosting plans include LiteSpeed Web Server.
Improve static and dynamic content performance and reduce page load time by using LiteSpeed Cache plugin for WordPress and many more applications.
WEB HOSTING PLANS
Choose the perfect Web Hosting Plan for your business
Baby

1GB SSD Cloud Storage
1 Website
5GB Bandwidth
5 Email Addresses
5 Databases

ORDER
FREQUENTLY ASKED QUESTIONS
What does Shared Hosting mean?
A Shared Hosting service like what we offer here at FincoHost is a service where multiple domains are hosted on a single server (shared server).  Resources are shared equally amongs these domains.
What is a domain name?
In simple terms, a domain name is simply your website name.  Technically, your domain name points to the ip address of the server hosting your website.  You can purchase a domain name on FincoHost.
Will I get free SSL with the FincoHost Starter Plan?
Yes.  All FincoHost Hosting plans comes with a free SSL certificate.
Can I use a different Email Hosting Provider with my FincoHost account
Yes.
It is possible to use any other email hosting provider like Yandex Mail or G suite with your FincoHost hosting account.
How do I get a custom email address? (m@website.com)
When you host your website with companies like FincoHost,  one of the services you get is the ability to create a certain number of email accounts with your website as the domain name. ie (you@yourwebsite.com)
What is FincoHost Panel
FincoHost Panel is our own version of cPanel.  It allows you easily control every part of your Web Hosting account.
How soon will my Hosting be ready After Payment
Your Product will be ready approximately 20-30 Minutes after your payment have been confirmed.
What is Web Hosting?
Web hosting is the service that stores all your website data and makes them available over the internet via a software called a web server.
OUR CLIENTS
Become one of the big guys and purchase an hosting plan with us



Get Started with One of the Best Shared Hosting only at $1.99